Prom is the last hurrah of high school before graduation, and planning for the big night takes a bit of work. You'll need to choose a prom dress fit that flatters you and shows off your personality, find shoes that are photo-worthy but also can hold up to a night full of dancing, and determine a way to arrive in style. And then, of course, comes the prom makeup. Figuring out what look you want to rock is a challenge in and of itself (a smokey eye? Winged eyeliner and a red lip?), but you also want to make sure that your makeup stays put throughout the night. It can be a bit of a tricky task, considering sweat and makeup don't typically mesh all that well.
Thankfully, you have us. Here, we'll share how to make makeup last all night and offer our best tips for keeping your prom makeup look picture-perfect. So put on your dancing shoes, blast your fave jams, and read on for two NYX Professional Makeup tutorials on long-lasting makeup looks for prom night.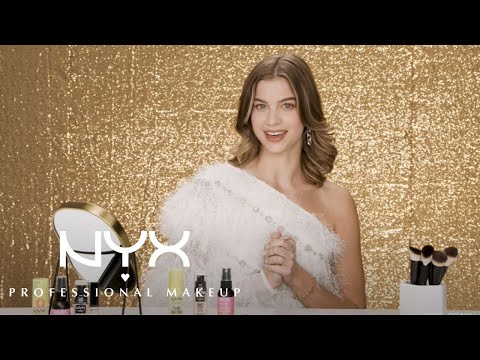 How Can I Make My Prom Makeup Last Longer?
The endurance of your prom makeup look primarily comes down to two things: the products you use and the way you apply them. Pairing expert application tips with long-wear products from NYX Professional Makeup can help your look last longer. You'll find both in the makeup tutorials below, where we're sharing two long-lasting prom makeup looks for you to choose from.
Natural Prom Makeup Look
Embrace your own beauty with a natural makeup look that lets you—and your outfit—really shine. Watch our video tutorial on how to do prom makeup and follow along with the step-by-step instructions below.
1. Prep Your Skin With Primer
Makeup primer helps smooth the skin and provides grip so your base makeup can stay put. Basically, it's a cornerstone of any makeup look that's made to last. Start your routine off right with Plump Right Back Primer + Serum. It plumps the look of tired skin with moisture (perfect after late nights studying for AP tests and finals) and helps keep makeup in place. For streak-free application, smooth a dime-sized amount of primer on using the Plump Right Back Silicone Applicator.
2. Apply long-wear Foundation and Concealer
A long-lasting foundation is a must on prom night. We recommend going for a full-coverage foundation, like our iconic Can't Stop, Won't Stop Full-Coverage Foundation. The lightweight, waterproof formula provides long-lasting coverage with a matte finish and stays put for up to 24 hours. It's vegan and cruelty-free and available in a whopping 45 transfer-proof shades to flatter any skin tone. Apply it with the Can't Stop, Won't Stop Foundation Brush for a smooth finish.
For concealer, our pick is none other than Can't Stop, Won't Stop Full Coverage Concealer. Like the coordinating foundation, it's long-wear, transfer-proof, and packed with high-intensity pigment. The creamy, blendable formula is available in 24 shades and can be used to conceal, highlight, and contour to your heart's content.
Pro Tip: If you're wearing a dress, consider buffing your foundation down your neck for a seamless look. You can also experiment with body makeup to give your decolletage, arms, and legs a glowy finish. Use our Face & Body Brush for an easy application.
3. Add a Flush Of Color With Blush
Blush will help ensure you look fresh-faced and glowy for prom. To keep that going all night, reach for one of our vids. (Try a nude or pink blush to complement your natural makeup look.) The dual-ended cream blush stick colors, shapes, and blends like a wonder. Plus, it's perfectly portable, meaning you can toss it into your clutch for touch-ups.
4. Use Powder To Mattify Shine
After you've finished applying your base makeup—and given it a few minutes to dry (this is a must)—set it all in place with a long-wear setting powder to help prevent smudging, melting, and fading. If you want to minimize shine, try Can't Stop, Won't Stop Mattifying Setting Powder, which helps absorb oil, leaving your skin with a smooth, matte finish. The pressed powder is available in 11 shades that coordinate with our classic Can't Stop, Won't Stop Full-Coverage Foundation, as well as a translucent shade.
Pro Tip: Make sure to buff off any excess powder for a natural-looking, your-skin-but-better finish.
5. Precisely Define Your Brows
Eyebrows frame the face, and well-groomed brows can help pull your entire prom makeup look together. Fill in sparse areas with our Micro Brow Pencil for more defined brows. The pencil's super skinny tip draws fine lines that allow you to mimic the look of natural brow hairs. Use short strokes to fill in your brows, then brush them with the spoolie (included on the opposite end of the pencil) to blend the product.
6. Give Eyes a Dose Of Sparkle and Shine
For a simple, long-lasting eye look, start by laying down a base of eyeshadow primer. Then, grab a neutral eyeshadow palette and define your outer corner with a soft, matte shade. Bring a bit of glitz into the equation by applying a shimmering champagne shadow on the inner two-thirds of your eyelids.
Pro Tip: Take that shimmer to the next level by spritzing your eyeshadow brush with setting spray. Not only does this enhance the intensity of the shadow, but it also helps lock it in place.
7. Layer Lip Liner and Lipstick
Between pre-prom dinner and chatting with friends all night, your prom lip look has to stand up to a lot. The perfect combination for the occasion is a liquid lipstick layered over long-wearing lip liner. Line and perfect the shape of your lips with Suede Matte Lip Liner, then apply our Lip Lingerie XXL Matte Liquid Lipstick. It offers full-bodied color that doesn't crack, transfer, or fade for up to 16 hours.
Pro Tip: To avoid a visible lip liner faux pas, be sure to blend the edges of your liner toward the center of your lips for a soft, diffused finish.
8. Lock Everything In With Setting Spray
With all that hard work you put into perfecting your prom makeup, you want to make absolutely sure that it lasts throughout the night. So, once you've completed your finishing touches, lightly mist your face with Plump Finish Setting Spray. The formula with electrolytes hydrates skin without leaving it feeling oily or greasy, all the while helping reduce makeup transfer and smudging for up to 24 hours.
Sculpted Prom Makeup Look
Prom night presents the opportunity to be truly glamorous—why not take it? Watch our video tutorial and follow these four steps for a sculpted, full-glam look.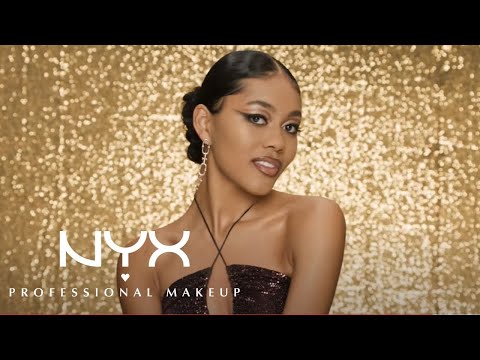 1. Prep Your Skin With Primer
long-wear makeup looks need to be built from the base up, and that starts with primer. For a gorgeously defined look, we like to begin with our multitasking Marshmellow Smoothing Primer. The 10-in-1 primer smooths, softens, extends makeup wear for up to 16 hours, hydrates, soothes, evens tone, minimizes texture, blurs lines, adds a soft-focus finish, and keeps makeup fresh.
Pro Tip: To create a smooth canvas for the rest of your makeup, apply a dime-sized amount of primer with The Marshmellow Blender Sponge. Its unique shape (it looks like a marshmallow!) helps with precise blending, even in hard-to-reach areas.
2. Apply Foundation To Add Coverage
Our aforementioned Can't Stop, Won't Stop Full-Coverage Foundation is just as well-suited to a sculpted makeup look as it is a natural one. Apply a layer to your face for even, long-wearing coverage.
3. Sculpt and Highlight Your Face
As the name suggests, the star of this look is your defined and illuminated features. Once you've made it to this step, pick up the Wonder Stick, our dual-ended cream contour stick. One side houses a highly pigmented contour color, while the other features a coordinating highlighter. The precise applicator makes getting a defined finish easy, as does the blendable formula.
Start with the contour side, drawing lines along your cheekbones, either side of your jaw, and down the sides of your nose. Then add dots to your temples and forehead. Before blending, add your highlighter, too. Draw on lines above your cheekbones, at the top of your forehead, in-between your brows, and on your cupid's bow. Once you look like a work of art, grab your brush and blend, blend, blend.
Pro Tip: You can contour your lips with makeup, too! Put down your Wonder Stick and reach for a lip liner that's a few shades deeper than your natural lip color. Use it to outline your lips, then layer a lighter lip gloss on top to highlight the center of your pout and create a fuller lip look.
4. Lock Everything In With Setting Spray
You're almost ready to head out for prom (or start on your hair), but first, setting spray. Simply spritz our Matte Finish Setting Spray over your face for long-lasting hold with a matte finish. This easy-to-use pro pick extends makeup wear for up to 16 hours!
Why Does Makeup Not Stay On My Face?
If you find that your makeup doesn't stay on your face, there's probably a reason why. Or reasons, plural—there are a lot of things that can interfere with how well your makeup sticks to your skin. Some habits that can make your makeup wear off quickly include:
You applied makeup too soon after skincare
Products need time to absorb—if you get started on your makeup right after moisturizing, you run the risk of getting a patchy or uneven finish. To help your makeup last longer, wait a few minutes between completing your skincare routine and starting to apply makeup. It's also best to let each layer of makeup settle before getting to work on the next.
You didn't use a makeup primer
Like we said, primer is important! It helps the skin grip makeup, allowing it to last longer and stay fresh-looking.
You didn't set your base with face powder
Powder, particularly setting powder, can help lock in liquid makeup (like foundation) so it's even-looking and budgeproof.
You skipped setting spray
For last-all-night makeup, long-wear setting spray is a must.
You're touching your face too much
The combination of the warmth from your fingers and your skin's natural oils can interfere with your makeup and cause it to melt or smudge. Hands off!
You're not blotting your skin
Oil is one of the main reasons why makeup breaks down. If you have oily skin, stash some blotting papers in your bag so you can absorb oil throughout the night without disturbing your makeup.
You're not touching up your makeup
If you want your makeup to look picture-perfect all night long, touch-ups are a must. Make sure to use a makeup sponge, rather than a brush, for touch-ups—they can help absorb oil and keep your skin looking fresh.
Next: Find a few more eye makeup ideas for prom, including fierce cat eyes, in our article 3 Ways To Reinvent Your Smokey Eyeshadow Look.